Size Chart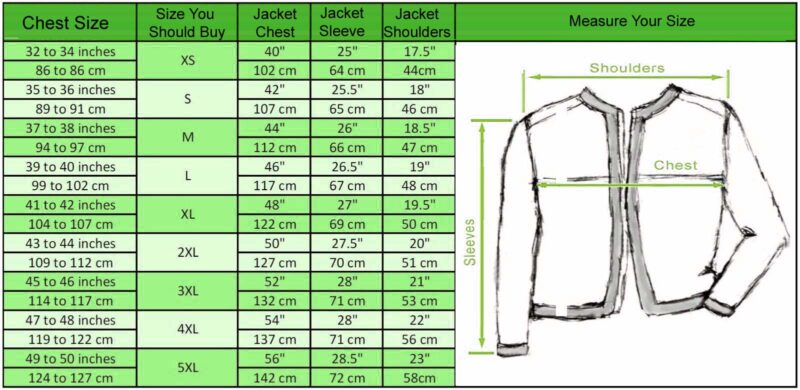 Deadpool Jacket – Ryan Reynolds Movie Costume
Specifications:
Grade A Leather Jacket
Front Zip Closure
Two Outside Pockets
Two Inside Pockets
Polyester Lining
Jacket Will Be Shipped In Plastic Bag To Protect From Dust And Damage.
The Deadpool jacket is the perfect way to show off your fandom for the superhero's style. The jacket features high-quality leather construction, complete with a sleek and stylish look that replicates Reynolds' costume from the movie. The bold and eye-catching colour scheme makes it ideal for cosplay and comic conventions. It also boasts several pockets and adjustable straps to customize your look. Whether dressing up for Halloween or wanting to show off your superhero pride, the Deadpool 1 Ryan Reynolds Movie Costume Leather Jacket is an excellent choice. You'll surely stand out from the crowd with this stylish ensemble!
Tips for Caring and Maintaining Your Leather Jacket Properly
If you've recently acquired a Deadpool jacket, like the iconic Ryan Reynolds Movie Costume Leather Jacket, it's essential to care for it properly. It can be intimidating to tackle leather cleaning and maintenance, but with a few simple steps, you can keep your leather jacket looking great for years.
1. Store the leather jacket in a cool, dry place. Make sure to keep the leather away from direct sunlight and humid areas. Don't hang it too tightly on a hanger, as this can cause stretching or wrinkling of the material.
2. Clean your leather jacket regularly with a damp cloth. Rub gently in circular motions to remove dirt and dust particles. If there are tougher stains, use a specialized leather cleaner and follow the instructions for the best results.
3. Condition your leather jacket with a leather conditioner after cleaning to keep the material soft and supple. Reapply the conditioner every 3-4 months or whenever you notice discoloration or cracking of the material.
4. Treat your jacket for water resistance with a specialized leather waterproofing spray. This will help protect the material from spills and rain, keeping it looking great for longer.
By following these steps, you can keep your Deadpool jacket looking new for years to come! Have fun styling the iconic Ryan Reynolds Movie Costume Leather Jacket, and enjoy the compliments you get when you wear it.
Conclusion
The Deadpool 1 Ryan Reynolds Movie Costume Leather Jacket is a must-have item for franchise fans. Its sleek design and attention to detail make it a perfect representation of the character. Not only is this jacket stylish, but its high-quality construction and materials make it durable enough to last for years. Whether you want to cosplay as the Merc with a Mouth or add flair to your everyday wardrobe, this Deadpool jacket is a great option. So if you're looking for something to make a statement, this is the one to get. With its timeless look and superior craftsmanship, this jacket will surely be a hit with all your friends.