Size Chart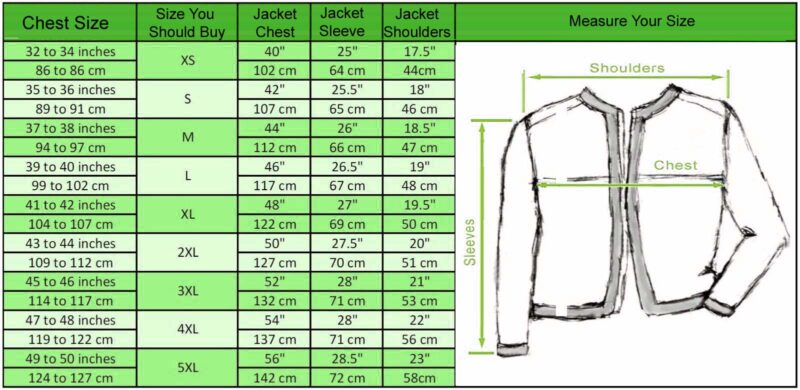 Michael Hoban 8 Ball Jacket
Specifications:
8 Ball Bomber Jacket Grade A Leather Jacket
Viscose Lining Stitched Inside
2 waist zip pockets and 2 inside pockets
Black with a "8" Logo behind and on both sleeves
Dry Clean Only
Description:
This 8 Ball Jacket is made with high-quality Grade A Leather with double stitching for durability. Satin + polyester lining. Pockets are sewn within this leather jacket to keep your material safe. Its made of genuine leather with an inner viscose lining. For more information on returning the jacket, please read the return policy. We take deep pride in the jacket; Upon receiving the jacket, a 30-day return policy applies.
8 Ball Bomber Jacket Return/Exchange Policy
You can return most new, unused items within 30 days of delivery for a full refund. After we receive your returned order, we authorize your refund within 3 to 5 working days. You can find more information about shipping and returns on the shipping/returns page.
8 Ball Jacket Review
In addition to being one of the most unique shows on television, Seinfeld is superbly written and directed. Patrick plays David Puddy, a calm, passionate, and assured character who enjoys staring into the distance. One of his best ensembles, this jacket is a must-try.
The wearer of genuine leather apparel with smooth viscose lining enjoys maximum comfort and ease throughout the day. There is a zip-up closure on the front and the number 8 is on the sleeve and back of the jacket.
Wearing comfortable and unique clothing is a universal desire. The best choice when looking for something special is a genuine leather jacket. It is comfortable to wear an attire with a viscose lining for a long time. It is a one-of-a-kind leather bomber jacket. This jacket combines style and coolness. At first glance, the jacket has a vintage feel. This jacket has a classic design and a significant structure, making it irresistible from any angle.
Material and Quality
The eight ball jacket features Grade A Leather and double stitching for durability. This winter jacket is lined with a viscose fabric for warmth. A ribbed collar makes an item seem warmer.
If you are searching for a captivating outfit, you would be familiar with the 8 Ball Jacket. There is no doubt that it is the most attractive outfit, which enhances your appearance and makes you look good.
Black grade A leather eight ball jacket is the only statement that will enhance your appearance. This jacket is made from high-quality, high-class leather. Comfort is further enhanced by the inclusion of a non-slip inner viscose lining.
The number 8 on the sleeves and back of this outerwear gives it a distinctive appearance. You can easily open and close it with the front zipper. Eight Ball Jacket's rib-knit collar is black in color. It can be used at a friend's reunion or as a Halloween costume for your kids. You will look slimmer with the ribbed black cuffs and hemline.
Viscose lining extends the jacket's life, enabling it to be worn on casual occasions. The ideal piece for everyday wear, it can be worn anywhere and at any time.