Size Chart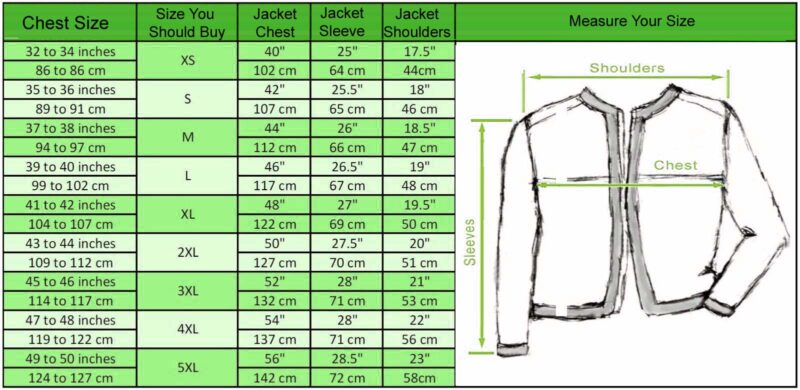 Michael B Jordan

Erik Killmonger Vest

Specifications:
Available in Lambskin
Front Zip Closure
Original YKK Zipper
Dry Clean Only
30 Day Returns & Exchange, 100% Money Back Guarantee
Description:
This killmonger vest is made with high quality Grade A Leather with double stitching for durability. Satin + polyester lining. We take deep pride in product if you are not satisfied you can return the vest within 30 days of receiving, please read the return policy for further details.
Black Panther Armor Style Michael B Jordan Leather Vest
Black Panther became a massive hit in the first month of 2018 and was really well received by audiences. Erik Killmonger got a lot of fame for his negative role in the movie and people really appreciated his acting skills. During the movie, he wore a blue costume jacket, which caught the attention of the audience. This costume has been added to the Flesh Jackets collection for those who are always seeking out unique costumes. There are broad strips on the shoulders that carry the whole weight of the vest. To give it an armor-like look, mental pieces are placed on the vest's chest area. The vest has a straight collar, and the front has a zipper. A belt is provided below the metallic chest. There are no pockets because it isn't a common jacket. There are also metal pieces on the shoulders. The vest is very unusual, and would be perfect for a costume part in a college play. It can be purchased at a reasonable cost from Flesh Jackets.
Return/Exchange Policy
You may return most new, unopened orders within 30 days of delivery for a full refund. We'll also pay the return shipping costs if the return is a result of our error (you received an incorrect or defective order, etc.). We authorize your refund within 3 to 5 working days of us receiving your order back. For more details about shipping and return policy please visit shipping/returns page.