Size Chart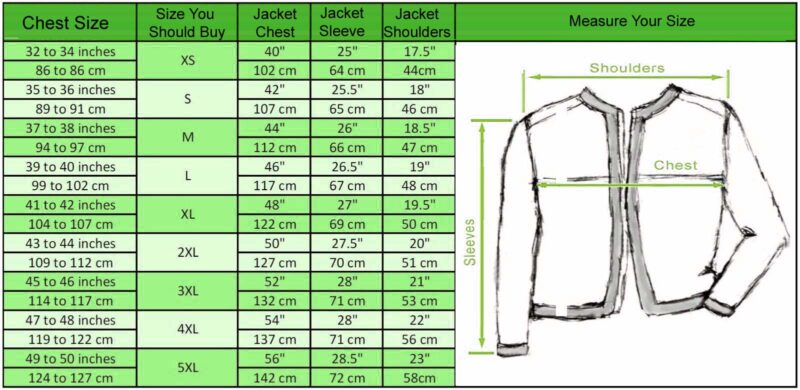 Cobra Kai Jacket
Specifications:
* Worn By: William Zabka
* External: Faux/Real Leather
* Internal: Viscose Lining
* Closure: YKK Zipper
* Pockets: Two Side Waist and One Chest Zipper Pockets
* Collar: Stand Up Style Collar
* Cuffs: Rib Knitted Cuffs
* Color: Red
Description:
This cobra kai jacket is made with high-quality Grade A Leather with double stitching for durability. Satin + Polyester lining. 3 Outside pockets and 2 inside pockets. Pockets are sewn within this leather jacket to keep your material safe. You can read the return policy if you'd like more information on returning the jacket. We take great pride in our product and will accept returns within 30 days of receiving the jacket.
Cobra Kai Jacket Return/Exchange Policy
You may return most new, unopened orders within 30 days of delivery for a full refund. We authorize your refund after we receive your returned order within 3 to 5 business days. On the shipping/returns page, you can find more information about shipping and returns.
Cobra Kai Halloween Costume Bomber Leather Jacket
You may find a costume that can spice up your wardrobe and give you the option to choose a spectacular Halloween costume, cosplay costume, or theme party costume in the collection. The jacket is inspired by the jacket worn by William Zabka in the TV show Cobra Kai as The Karate Kid. It enhanced the aggression and vigor of his role with the fashion piece he chose.
The Jacket will take you back to your childhood!
A person looking for the Red Cobra Kai Leather Jacket can purchase this masterpiece to enhance their persona with charisma. The style is unique, and how much recognition it has is remarkable. A Cobra Kai patch is embroidered on the chest, making it a magnet for buyers. Genuine leather and faux leather can be used on the outer surfaces and a viscose lining offers a luxurious interior that looks and feels wonderful. The Jacket offers a sophisticated design that combines the essential features in black and red. Don't hesitate to include it in your collection.
You could be a Karate Expert like Johnny Lawrence!
It's like wearing the karate robe while wearing this jacket. Cobra Kai Leather Jacket has you covered if you're not comfortable in your robe anymore. The jacket can be worn with a white T-shirt and black jeans, and the headband embroidered with Cobra Kai is perfect for practicing your Karate moves.
Irrespective of the color you choose, the jacket will give you a Karate maestro vibe. This jacket is made of shiny material on the exterior, giving you a feeling of control. No one can lower your morale like Johnny Lawrence, who knows how to fight back.
With its breathable quality, the Cobra Kai Leather Jacket will keep you comfortable even when you're fighting your way through the Karate court. Johnny wore the jacket while strolling casually through the city, so get it and wear it!