Size Chart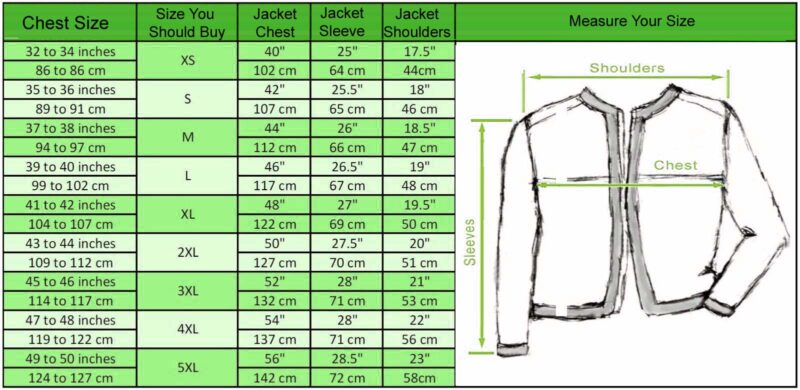 Harley Davidson and the Marlboro Man Jacket
Specifications:
Harley and Marlboro Man Jacket Grade A Leather Jacket
Viscose Lining Stitched Inside
2 Outside Pockets and 2 Inside Pockets
Spread Collar
Black
Dry Clean Only
Description:
This harley davidson and the marlboro man jacket is made with high quality Grade A Leather with double stitching for durability. Satin + polyester lining. We take deep pride in Harley jacket if you are not satisfied you can return the jacket within 30 days of receiving the jacket, please read the return policy for further details.
Harley Davidson and the Marlboro Man Jacket Return/Exchange Policy
You may return most new, unopened orders within 30 days of delivery for a full refund. We'll also pay the return shipping costs if the return is a result of our error (you received an incorrect or defective order, etc.). We authorize your refund within 3 to 5 working days of us receiving your order back. For more details about shipping and return policy please visit shipping/returns page.
Mickey Rourke Harley Davidson and The Marlboro Man Motorcycle Leather Jacket
The Marlboro Man Jacket is made from genuine leather or faux leather. Featuring an orange and black combination, it makes a bold statement. A high-quality zip provides access to the front. A high collar makes you stand out. The Harley Davidson Marlboro Man Jacket features long sleeves and a flap pocket on the left sleeve. The garment features a button closure along the hem, with an imprinted "Harley Davidson" around the waist. This jacket has zippers along both cuffs.
The first time the Mickey Rourke Harley Davidson leather jacket appeared in the Hollywood film Harley Davidson and the Marlboro Man (1991), it immediately captured the attention of viewers. This jacket is exactly like the one featured in the movie. With this world-class stitched image, you will soar to new heights. You will look great in a Harley Davidson Marlboro Man Jacket embellished with stylish logos and stylized depictions. A YKK zip runs down the center of the jacket, and snap buttons close the collar and waistband. The sleeves have pockets, and a yellow and white strap runs from the back to the hem. Grab this cape while you can!