Maattabel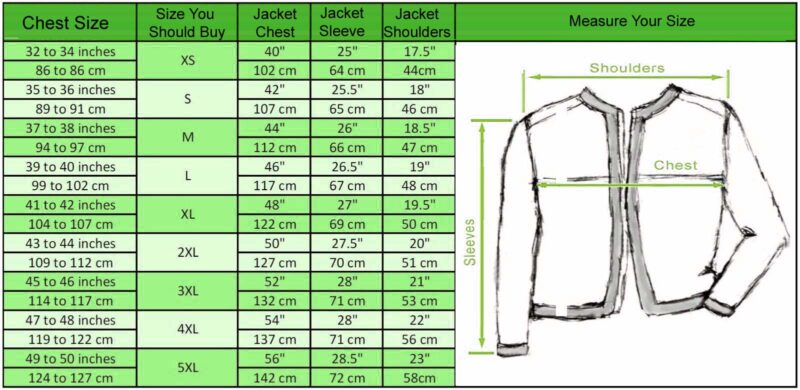 Sheriff Walt Robert Taylor Longmire jas
Specificaties::
Inspiration

:

Robert Sheriff

Materiaal: 100%

Real Leather

Voering: Viscose voering
Halsband:

High Neck Fur Collar

zakken:

Two outside and two inside pockets

Kleur:

Distressed Brown

Sluiting:

Zipper and button closure
Beschrijving:
Deze longmire coat is available in two different color brown coat and black coat. Both leather trench coat made with high quality Grade A suede Leather with double stitching for durability. 2 buiten en 2 inside pockets and a satin + polyester voering. We take deep pride in our products, and if you're not happy with it, we offer a 30-day return policy. Read more about our return policy.
Longmire Coat Return/Exchange Policy
U mag de meeste nieuwe retourneren, ongeopende bestellingen binnen 30 dagen na levering voor een volledige terugbetaling. We autoriseren uw terugbetaling binnen 3 naar 5 werkdagen nadat wij uw bestelling terug hebben ontvangen. Ga voor meer informatie over het verzend- en retourbeleid naar de pagina verzending/retouren.
How To Buy The Best Walt Coat

?

Are you stressed out when you try to find the perfect coat? Does your mind seem to be filled with doubts? We've already thoroughly researched longmire jacket on our website, which resulted in our curated list of the best sheriff coat.

Please see the list of questions below:
Is the longmire robert taylor coat worth the price

?

What are the advantages of purchasing a walt coat

?

What's the point in investing in any walt

longmire coat

,

much less the best one

?

How can I find the best Longmire Jackets right now

?

How do you find such detailed information about Walt Jacket

?
Satisfaction

:

The Ultimate Guide

There are likely many other questions you have about a brown coat that go far beyond these. Visiting as many quality websites as possible will help you find accurate information.

There are many resources that make doing research easier, such as buying guides, rating websites, and recommendations from friends. When researching the perfect Walt coat, only use credible sources and websites.

We use artificial intelligence and big data to proofread Walt's jacket buying guides, which are based on facts. This buying guide was created in the following steps. Based on a custom selection of algorithms, we created a top-10 list of the best Walt jackets currently available on the market.

In order to create our list, we take into account a variety of factors. Examples include:
Brand value

:

Each brand of Longmire Jackets has its own unique value

.

Most brands offer some sort of Unique Selling Proposition that's supposed to differentiate them from the competition

.

Features

:

What are the most important features of this jacket

?
Specificaties::

They are measurable in terms of power

.

Product Value

:

This simply reflects how much value you receive from buying Walt Jacket

.

Walt Jacket is given a number of objective ratings

.

Customers

' Beoordelingen:

These are all kinds of reviews from people who have owned Walt Jackets themselves

.

They're quite informative about what the jacket is like

.

Product Quality

:

You won't always get what you expect from this jacket

,

sometimes you'll get less

,

sometimes more

.

Product Reliability

:

How tough and durable a Walt Jacket is will tell you how long you will get it to work for you

.
Robert Taylor Walt Sheriff TV Series Longmire Jacket
Robert Taylor wore this coat as a character in "Longmire." Made of soft materials, it makes for a comfortable and warm coat. It also features a viscose lining for warmth. He was most notable for his very long, beautiful jacket, which immediately caught our attention in that it was fashionable, highly functional, and a must-have for our wardrobe.